If you're new to the world of RVing, the class delineation can seem confusing. We'll break down exactly what defines a Class A RV, and the advantages of driving a Class A RV vs. other RV classes.
Class A RV Basics
The main thing to know about Class A RVs: they're big. You've probably seen these behemoths cruising down the interstate and mistook them for a tour bus. They're the largest RV class available and capable of providing a luxurious cross-country experience.
Size
Roominess typically comes standard on Class A RVs. Depending on the floorplan and options included in your Class A RV, sleep capacity can vary from 4 people up to 10. They typically range around 38 – 40 feet in length.
Floorplan
Take a look at a floorplan from a 2020 Class A RV. This featured model illustrates some of the options available when you're shopping for an RV.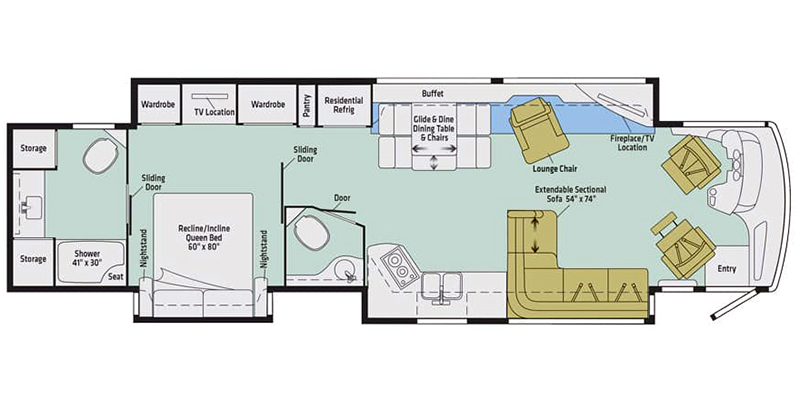 Interior
Each Class A RV is designed differently. Some of them are big and rugged, some are big and luxurious. If you know you need roominess, the Class A is the way to go. With optional dinettes, fireplaces, king beds, custom fixtures, etc… – you're sure to find a Class A RV that connects with your style.
Exterior
The windshields on the Class A RVs are typically sloped gently (like a bus). Depending on your model, your RV may have slideouts, awnings, and other distinct features. One thing to note though, that exterior has to be protected with a great driver behind the wheel. The Class A RVs are notoriously difficult to maneuver in tight spaces. So – the best way to protect the exterior is safe, meticulous driving!
If you want to learn more about Class A RVs, check out our Class A RV inventory and let us know if you have any questions.