It's weird, we know – but Class Cs are actually sized smaller than a class A, but bigger than a Class B. There are a couple distinct benefits to choosing a Class C RV, so let's dig in.
Class C RVs: What You Need to Know
These RVs aren't quite as big as the As, so they're a little easier to handle. They aren't tiny either though – you can comfortably tour the country with your family in these RVs that usually range between 28 and 35 ft in length. Typically, these RVs will sleep a large family comfortably, depending on the options and floorplan you select.
Floorplan
Take a look at an example floorplan from of our Thor Motor Coaches. This unit shows you exactly how robust your Class C can be; loaded with a dream dinette and huge sleeping areas.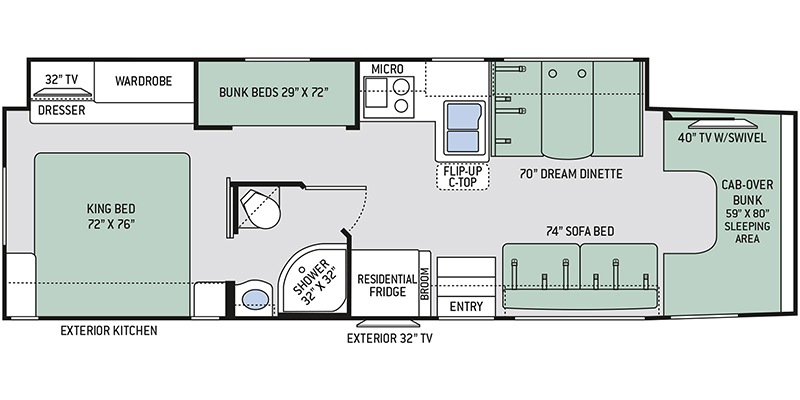 Interior
The benefit of the Class C is definitely the ability to make it feel like a home away from home. Showers, full-size refrigerators, multiple TVs, etc… – the designs and interiors can be customized however you'd like, but you'll probably find a Thor, Winnebago, or Coachmen that will fit your lifestyle and travel needs perfectly.
Class C RVs are only a click or phone call away, so check out our Class C inventory and let us know if you have any questions.